Sunday, January 30, 2005

oioioioioi
Oi, for the past couple of months I feel like some hoity toity career woman snob.
My ex invited me out for a couple of drinks Thursday night and I figured I'd be a bum tonight, put stupid marking and other work shit aside and go. Dropped off my shit and headed straight there.
I just came from my teaching gig that day, so I was in my "professional clothes", which is ulike what I usually put on. There I was with him a bunch of his friends, dressed in my classy pinstripe trousers (I shall not disclose how much i paid for it, except it was too much) and a new black sweater (oh so screams "professional"). Let's not forget my pointy toe shoes. I'm in a seedy drinking hole, and the lot of them are in their jeans and ratty attire. Of course, I'm playing pool and knocking back pints, and looking like a twat.
Never again. If I'm in the same type of attire, I'm going to demand to be taken to a classier place.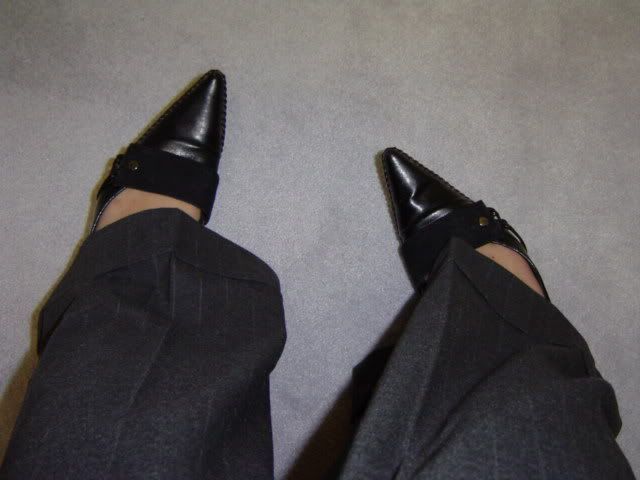 Wednesday, January 26, 2005

I've found my muse
I just finished dancing to a random amount of music videos on tv. Wanted to have a big booty like Jennifer Lopez's. Ended up sweating like a moron and fell on my couch in fits of laughter.
Good god that was fun. Haven't felt this great in a while, which is refreshing.
2005 is bringing a shitload of changes. Granted, some bad things happened too, but that was brought over from last year. Met loads of new people, seen tons of great things. I think I've finally found the inspiration and motivation I've so longed for. I wish there were more hours in the day to be doing what I love.
I've found my new muse. whoo wee.
Friday, January 21, 2005

superawesomefantabulous
I came home only to find out there has been a little flood in my basement, and the wall where I keep all my works was damaged. It was a painful yet nostalgic experience sorting through all the stuff I created so many years ago. At about 2am this morning, I went downstairs to sort stuff out. I found a bunch of self portraits I did four years ago that I thought I had destroyed (negatives and all) in my fury of lesbian rage.
This makes me feel superawesomefantabulous. Also found old camera equipment.
Look out world. You shall see me soon in a photo exihibit near you.
Monday, January 17, 2005

Back Home (Until I Run Away Again)
Well, did my load of laundry, made my way to school (NEVER carry a huge-ass bag of crap when showing people around campus), and took my bus back to my parents home. We'll see how this goes.
Despite all that's happened I miss being in my room, although at any moment the wonderful silence could potentially be interrupted.
I was a good tour guide today. I think I may start that as my second career choice. I'm tired of being a food whore.
Thursday, January 13, 2005

ah hah!
erf.
There's just been something that's on my mind for a little mini while. I guess I've been trying to find a way to figure it out and externalize it.
erf.
J was the first one to mention it. It's been on his mind too. Thank god, because if I started this conversation and I truly thought he felt the opposite I have no idea what I'd do.
It's this whole relationship, how it started, where we wanted it to go, and where it is now. I don't think both of us expected to get this serious this quickly, if at all. It's scaring him too, not just me, thank goodness. We had a seriously long chat tonight, and I feel like a weight's been lifted off my shoulders. Check that list of things needed to be adressed and changed. God, I'm making this sound so impersonal, and it isn't in any way. There's just a shitload of crap I have to deal with.
I guess it all started with the Christmas dinner. Both of us agreed that he shouldn't have gone. Yeah, ok, I invited him. But I threw it out as a casual invitation, not a "hey, we're getting more serious with our relationship so let's take it one step further" thing. I didn't want him to spend Christmas alone, with his family being halfway across the world. He pretty much admitted to me that he accepted it not really thinking about what the intention was, and panicked because he thought I invited him for the latter reason. The next thing we knew, he comes, my family loves him, we have one of the best Christmases ever, and it unofficially became serious.
It's not that I don't care about him and vice versa. It's that we never intended for it to go beyond casually dating each other. When we first hooked up, heb just broke up with his ex a little while back and I was dealing with some issues at the time. A bit of fun, really, no strings attached. To be honest, I don't want any sort of commitment, and neither does he. But now that we're at this stage there's no going back.
So we're on a indefinite break as of this point. I can't say I'm surprised. And no, I'm not sad, more relieved. So is he. A couple of friends asked why I don't talk about him. They can read this post and they'll know why.
Sunday, January 09, 2005

Change #1
Well, I'm staying at my cousins for the time being. I really needed to leave the house, my dad has simply become too unbearable. I've tried to lay low and let things slide when he'd be in his moods but Wednesday was the final straw. I am a complete mess.
So I told my mom where I was going to be, told her I'd call her to let her know I'm safe, packed a couple of items in my bag and headed to my cousin's place.
My mind's been somewhat better since I know she's not going to explode any second, and I can walk around her place with no fear of being yelled at. Hopefully he'll calm down and solve whatever he's having problems with right now. I do not want to be in a place where I will forever be a scapegoat whenever his temper rises. There's only so much anger you can avoid.
I've considered doing what I did four years ago and run away again. But I know that will not solve any of my problems. Plus, I was much more immature and my mom ended up getting caught in the middle of it. There is no way I'm going to put her through that again. I know that my cousin is open to me staying there for long term but I know I'm going to head home eventually.
It sounds stupid to do so, I know, but I need to show him I'm not the person I used to be. My mom took me out to dinner and told me he's truly believing of the fact that I started using drugs again. Which is not true. And I know he thinks this because I've been out a lot more often and coming home late. And the stupid thing is, I'm out late because I want to avoid him. I come home drunk half the time because drinking and going to bars is one of the only things to do if I'm going to stay out late.
Which brings me to one of the things I'm going to change: drink a maximum of one drink per night. Or at least not drink until I'm stupid. There's a staff party coming up in February and most of my friends who work there are super excited at going (namely the reason being the unlimited free drinks) and are trying so hard to convince me to go. I'm not about to tell them what led me to this conclusion because I don't want to talk about it. Not to anyone for that matter.
Any time I talk about this, tears well up in my eyes. James offered to go out to coffee and chat. I really don't. I'm feeling so antisocial that I'm turning off my phone so nobody can reach me. I did promise that we'd at least catch a flick and I'd feel bad if I don't. We'll see.
Time for a distracting movie night.
The Adventures of Priscilla Queen of the Desert
is always a favourite. I shall try to have a fun and sober night.
Sunday, January 02, 2005


I refuse to make up New Year's resolutions. If I, or anyone for that matter, were serious about making changes in their lives they would do them any time of the year.
Jacob and I drove around and talked about these changes. I am confident that I am going to make it. A lot of people, ones I told anyway, have been insanely supportive. And I want to thank them.
For a girl who's afraid to crack open a bible, I actually went to church on Christmas Day and have been talking to a priest once a week. No, I'm not converting nor restoring my faith.
More about this later. I need to rest.